"Meira Blaustein is passionate about Independent Film and its marketing strategies. She has extensive pre/post production experience and a very clear sense of story. If you are in need of guidance in helping to get your film made, Meira is the answer—a wise, generous and loyal problem solver who will be there for you!"
-Craig McKay,
DGA,WGAE, A.C.E., MPEG, AMPAS
"Meira Blaustein is a smart, passionate, kind, tenacious, principaled, fun creator of the highest order. With the Woodstock Film Festival, which I have observed since its inception, she has almost single handedly brought to life a world class vibrant arts event and coalesced a year round community that has enhanced the Hudson Valley immeasurably. Meira is nothing short of remarkable."
-Peter Saraf,
Producer, Co-Founder Big Beach Films

"I'm still coming down from the high that was this weekend. Meira, thank you so much for having us at your incredible festival. It was a magical weekend full of wonderful people and the gift of getting to share our film. Thank you for inviting us and championing us. I am so grateful. Much much love,"
-Auden Thornton,


Beauty Mark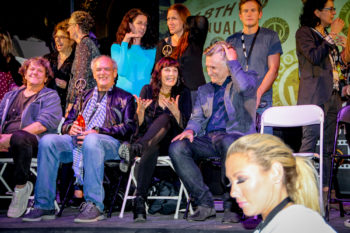 Winners and jurors of Maverick Awards at the 2017 Woodstock Film Festival.
"Meira is a well-respected voice in the industry. She brings her passion, creativity and production expertise to every project, making every film she is involved with better."
-Tracy Christian,
Documentary Filmmaker
"Meira is an authentic force of nature who is deeply committed to the arts. She has an extraordinary eye for talent and an innate understanding of the artistic process, which is evident in how she generously holds space for creativity.
As a film producer, I was honored to meet Meira as an invited guest of the Woodstock Film Festival and we later partnered to launch a tiny festival in the Himalayan country of Bhutan. She approaches her work with grace and openness and any project she commits to benefits immensely from her honesty, wisdom and experience. Meira is an absolute treasure!"
-Ginny Galloway
Executive Producer / Aurelia Soundworks
"Our screening of Cold November at your festival was one of the most magical screenings for any film that I've ever had. There really is no other way to describe it other than magical. I cried in new places at my own movie that I have seen over 100 times. Thank you."
-Karl Jaocbs


Cold November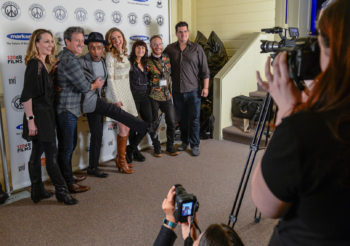 With Michael Berry, Giancarlo Esposito, Sarah Joy Miller, and Tim Young at the 2017 Woodstock Film Festival kickoff night screenings of A HAND OF BRIDGE and STUCK.
"I instinctively believed in Meira Blaustein and said yes to her before she even actualized her vision and before I ever met her.  I talked to her on the phone and instantly liked her and trusted her…like a kindred spirit.  She is an optimistic realist, she's candid, smart, communicative, and caring.  She's a creative visionary who manifests great things by fusing her aesthetic sensibilities with her charm and sheer tenacity.   She's amazingly insightful and resourceful and the most interesting people are compelled to circle around in her orbit."
Doreen Ringer Ross
Vice President Film, TV & Visual Media Relations at Broadcast Music, Inc. (BMI)
"Meira Blaustein is a force of nature; dynamic, dedicated, endlessly resourceful and upbeat. A woman of verve and vision, she's a natural born 'connector' between filmmakers, filmgoers and great films. Meira combines taste and passion with down-to-earth pragmatism and expertise. A pleasure to work with, she accomplishes ambitious goals with grace and dexterity. I feel very lucky to have Meira as a colleague, collaborator and friend."
Janet Grillo
Emmy Award winning producer
"I had a terrific time there and loved the joyful vibe of the festival. Such a pleasure. And the audiences were so smart and enthusiastic. I look forward to coming back. Thanks for all your hard work and for planning it out so expertly. Best regards,"
Richard Levine,
Submission

"Meira's dedication and passion for independent film, her impeccable taste and kindness, and her generosity of spirit are at the heart of the Woodstock Film Festival — my favorite east coast film festival for well over a decade."
Jonathan Gray,
Attorney / Producer,
Gray Krauss Stratford Sandler Des Rochers LLP
"I've known Meira for many years and she is truly a huge knowledge resource regarding the film industry. Everything from creative development to editing and to production, she knows about it!
She's provided excellent counsel and advised on my film work in development. She has given advice on my short films on Saratoga horse racing and a special video showcasing the beauty of nature moments. Meira has also seen my 5-year project on rural transgender youth progress over the years and given counsel along the way. She's truly an amazing font of knowledge."
"Meira Blaustein is a powerhouse…she created a top flight film festival in the mountains of NY and has been invaluable in helping me with all of my recent projects. When Meira took me under her wing it allowed things to happen easily and on a larger scale than I could have imagined."
Paul Green
Founder of School of Rock